You and your family are invited to an evening of encounter!

In the early days of broadcasting, families would often gather around the radio and listen
together each evening. Local performers gathered at local radio stations and sang Gospel
tunes and Church Hymns as thousands in their towns listened, enjoyed and even sang along.

Some things are worth reviving: Family worship and prayer are alive. God is our hope. With
today's rapid pace of life, society is being even more fragmented by spiritual darkness
with the help of technology which offers us many escapes and avenues. Though the
Communications Revolution is a good thing, in many respects, it also poses real dangers
and challenges. From ipods, to the Internet, to cell phones and wireless communications,
individuals are losing themselves into far away arenas while growing farther apart from
one another.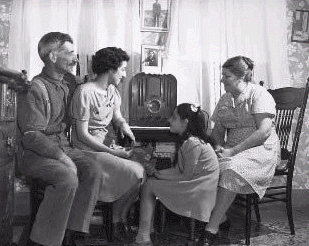 So what is the answer? The presence of God. The presence of the Lord is more than just
an alternative to today's offerings, it surpasses all of them by the length of an eternity.
It's more addictive, more fulfilling and contagious than anything else. "Taste and see that
the Lord is good" - Psalm 34:8

WKCL presents the Praise and Worship Hour, for individuals and families to come together
in order to serenade the One we love. A preacher once said that the sovereign presence of
the Lord is like the radio waves, for He is everywhere, but the manifest presence of the
Lord is where we tune in and actually interact with Him. Something happens when we worship
God. Our guards come down and we move beyond socializing (face to face) toward fellowship
(heart to heart). Unity drives as our pride takes a back seat to the One worth the attention.
Something else happens too. We desire others to feel what is being felt and prayers for those,
who have yet to feel Christ's loving embrace, are easily made with real results.

Enjoy Him with the music of worship leaders like Robin Mark, Paul Wilbur, Passion,
Hillsong, the Praise Band and many more as they all help you to "enter in".

So we invite you (even challenge you) to end your evening on a great note: Worship,
with thousands across Charleston, the One who first loved us. It's the Praise & Worship
Hour, weeknights at 9 pm on WKCL and wkclradio.com.